Watch for upcoming events and performances in your area!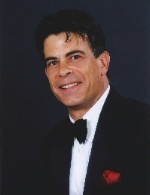 This page was last updated on: January 21, 2008
Bob Hoose has quickly become one of the top vocalists in the country today.  He has been wowing crowds of thousands along the east coast and throughout the country for years with his strong vocal ability and natural talent.  Bob's concerts have strong appeal to long-time fans of the American Songbook while at the same time introducing this classic music to a new (and rapidly growing) younger audience!

Many people claim that when Bob sings "the similarity to Sinatra's voice is uncanny" and the comparisons cannot be helped.  He admits that Sinatra was a huge influence and that it was only natural to learn from the best.  Although the influence of Sinatra is obvious and they do share a similar vocal "timbre", Bob has his own unique way of interpreting the American Classics with a style all his own.  "That's how most singers and musicians start out" states Bob, "they emulate their hero's and learn from them and then as you grow you develop your own style, but your roots always stay with you to some extent."  Bobby Darin, Harry Connick and even Al Jolson were also important influences as well.  More recently, Michael Buble' has been a huge inspiration.  "Buble' is current proof that people want to hear this type of music and they want to see it performed live.  That fact alone tells me that I'm on the right track."  

"Bob Hoose And His Orchestra" are gaining quite a following as one of the hottest acts in the country today.  Lead by Musical Director / Conductor / Drummer Frank Derrick they are notable for performing and 'nailing' arrangements that no other big band in the area would dare attempt.  While performing their specialty show "A Celebration of Sinatra" may be challenging enough, they pride themselves on these unique and special demanding arrangements that they always include in every concert performance.  Their specialty is in a concert setting where they can really shine and the orchestra performs to 'sold out' crowds wherever they perform. 

Bob and the orchestra have performed at various large Corporate Events throughout the United States and Canada for L'Oreal, Redken and Lancome to name a few, and have also performed for organizations such as Hospice, the American Cancer Society, the Swing/Jazz Preservation Society and for various festivals and numerous concert throughout the Southeast.

Testimonials:

-    "You're sure to be swept away by Bob Hoose as he breathes new life into these timeless classics!"

-    "Music fans are flocking to see Bob Hoose And His Orchestra!"

-    "Closing your eyes during the performance completes the illusion, with Hoose nailing such favorites        

         as "Come Fly With Me" and "World On A String.""

-    "This show is something to see for all musical lovers"

-    "Bob's 16-piece band features a cast of South Florida all-stars under the leadership of band director and

       drummer Frank Derrick."

Bob has done numerous radio interviews both regionally and nationally.

Some members of The Bob Hoose Orchestra also currently perform with these popular acts: The Palm Beach Pops, The Woody Herman Orchestra, Gloria Estefan, Steve Lawrence & Eydie Gorme, Paul Anka and other various top name acts.  Together, The Bob Hoose Orchestra rivals any orchestra you might see in Las Vegas or Atlantic City and are often compared to the Count Basie Orchestra! 

Their highly acclaimed CD release "Something Old, Something New" (Hyd Records) has received national and European attention and airplay and features original material (written by Bob) with arrangements by world renowned arranger Mike Lewis (Bobby Caldwell, K.C. & The Sunshine Band).  It was recorded at the Hit Factory / Criteria Studios in Miami.  The cd is currently available nationally and digitally worldwide.


"If you're looking for a record that proves that there are still musicians who know how to play with both technique and feeling, I highly recommend this.  This CD is a great mix of
Bob's
take on classic songs with his own songs and arrangements mixed in. This is a guy to watch." 
David Hooper "IndieMusician.com"
(Nashville, TN)
One of Bob's original songs on the cd ("It's With Me") has been chosen for an upcoming nationally released movie entitled "Off the Chain".

Bob has headlined command performances at Donald Trumps "Mar-A-Lago" and the Breakers Hotel in Palm Beach.   He has also been backed by the world renowned Woody Herman Orchestra, the Tommy Dorsey Orchestra, the Palm Beach Pops with Lynn Roberts and more recently the Gene Krupa Orchestra directed by Michael Berkowitz, all to SRO crowds. 

Future plans will find Bob and the orchestra in the studio again with some new material which will include some remakes of some baby-boomer era material.  American and European road tours; appearances with various national symphonies and a new DVD.

Bob Hoose And His Orchestra are a "must see"!

To book Bob Hoose And His Orchestra to perform at your next function call:  (561) 965-3790

Places Bob has performed:

Nite Clubs:

Christines in Jupiter  - Doogies in Deerfield - O'Hara's in Ft. Lauderdale - Tavern On The Greenery in Boca Raton

Country Clubs:

Mar-A-Lago / Palm Beach - Jupiter Hills Country Club / Tequesta - The Breakers Hotel / Palm Beach - Martin Downs Country Club / Stuart - Quail Ridge Country Club / Boynton Beach - Woodfield Country Club / Boca Raton - Crystal Lake Country Club / Pompano Beach - Aberdeen Country Club / Boynton Beach - Admiral's Cove / Jupiter - Jonathan's Landing / Jupiter - The Boca Raton Hotel and Country Club / Boca Raton - Turtle Creek Country Club /Tequesta - Huntington Point / Delray Beach - Tequesta Country Club / Tequesta - Kings Point Country Club / Delray - Kings Point Country Club / Tamarac - Majestic Isles Country Club  / Palm City - Lakes of Carriage Hills / Sunrise - Old Port Cove / North Palm Beach

Theatres:

The Kravis Center / WPB, FL - FAU Auditorium / Boca Raton, FL - The Cuillo Centre for the Arts / WPB, FL - The Lyric Theatre / Stuart, FL - The Eissey Campus Theatre / Palm Beach Gardens, FL - The Broward Center for the Performing Arts / Ft. Lauderdale, FL - Spanish River Performing Arts Center / Boca Raton, FL - The Pompano Beach Civic Center / Pompano Beach, FL - The Abraham Chavez Theatre / El Paso, TX

Festivals:

Sunfest 2000 / West Palm Beach, FL - The South Florida Fair / West Palm Beach, FL (2003 & 2004)

Conventions:

Marriott World Center / Orlando, FL - Marriott Center / Atlanta, GA - Diplomat Hotel / Hollywood, FL - Fontainebleau Hotel / Miami Beach, FL - Hilton Pittsburgh Towers / Pittsburgh, PA - Old Mill CC / Toronto, Canada


Click on The Bob Hoose Orchestra "Logo"

to go to The BHO Website!